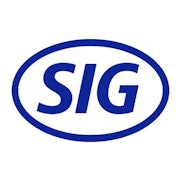 Marketing Manager Sustainability & Responsibility Europe (f/m)
SIG Combibloc GmbH
SIG is one of the world's leading solution providers for the food and beverage industry in the carton packaging and filling technology sector. We are proud of the competence and experience of our more than 5,000 employees worldwide, which enable us to respond quickly and effectively to local customer needs.
For our European Marketing team, preferably located in Linnich (area Düsseldorf/Cologne/Aachen) we are looking for a
Marketing Manager Sustainability & Responsibility Europe (f/m)
Our ambition is to create value. Our passion is about sustainable products and responsible management. We call it 'way beyond good' and have the clear ambition to become the first net positive company in our industry.
We invite you to actively develop our business with better and more sustainable products and a strong and leading portfolio. Are you passionate about professionalizing our marketing approach in the respective area around Europe?
You will join a great and dynamic team within the European market organization to 'Do good'. This role offers an excellent opportunity to work on multiple exciting projects with a lot of scope for design and creating a better sustainable foodprint in the market.
You will strengthen our European Marketing Team in the following challenging activities:
Develop further our market strategy for a stronger implementation of sustainability & responsibility into our portfolio and our European positioning
Create new ways to market our solutions with high consumer focus
Generate creative customer marketing activities – operational & strategical – to transfer their strategy, pains and needs to our respective solutions
Generate creative customer marketing activities – operational & strategical – to transfer their strategy, pains and needs to our respective solutions
Together with our regional marketing team members, establish new communication ways to key decision makers
Understand new market drivers incl. data and trends to extract the relevant information for SIG and our customers on the 'way beyond good'
Support the European Marketing team – as single point of contact for sustainable and responsible products, initiatives and actions – also summarize input for Global projects
You ideally match our requirements if you have the following skills profile:
University degree with either focus on sustainability matters and/or on sales / marketing / business development
Experience in B2B2C marketing
Thorough understanding of sustainability and responsibility trends and impact on our business and the business of our customers
Expert knowledge on 'green' topics and understand the matter from both perspectives - from industry and consumer perspective
Ideally, solid expertise in B2B marketing and insights in B2C marketing
Ability to build up and making use of internal and external networks
Ability to understand the requirements of internal and external customers; maintain a close relationship with customers to understand their thinking
Demonstrated ability to work creatively and to create new ideas/ approaches: thinking out of the box, motivation to try new things
Proactive, stress-resistant and reliable personality; initiating, pressing ahead and completing customer related tasks on time in full; understanding changes as opportunities, overcoming hurdles
Fluent in English / Ideally good knowledge of a 2nd foreign European language
Willingness to travel within Europe 30%
What we offer:
High degree of independence in managing the assigned tasks
Interesting development opportunities
Flexible working hours
International work environment and pleasant work atmosphere
Attractive remuneration package including a company car
You'll be working very closely and reporting to the Head of Marketing Europe. As a true team player you will be aware of the potential of our group that shares a common spirit to fight, laugh, win and celebrate together.