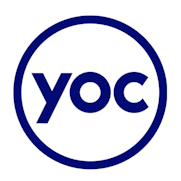 (Senior) JavaScript Developer (m/f)
YOC AG
By combining VIS.X®, our proprietary ad tech platform with our extensive media reach, YOC aims to operate qualitatively at the top of the advertising market. We want to deliver a better advertising experience to everyone. When we develop ad products, we strive to achieve extensive brand awareness with a real impact on results. We want advertisers to reach their objectives whilst we improve the user experience. With our technology stack and long-standing expertise, our mission is to provide excellent and continuous high-quality service and fast execution to our customers at any time.
We are committed to these goals – every day.
Being one of the first Mobile Advertising IPOs in 2006, YOC has remained a young company with a flat hierarchy and dynamic working culture. We now have 80+ employees across six European sites, striving to make a useful and sustainable contribution to the advertising market.
The Role
As a (Senior) JavaScript Developer (m/f) you will work closely with our several technical teams by developing innovative as well as distinguished mobile ad formats. In this role, you will contribute to diversified and international projects by working with our intercultural teams. In particular, you will be in charge of:
Creating technical concepts and requirements for high impact advertising products which are used by our own unique platform, built on proprietary SSP technology
Developing premium ad format products for mobile devices (web and in-app) and desktop browsers by using JavaScript, HTML5, CSS
Consulting our teams regarding technical requirements and feasibility when it comes to the design of new advertising formats
Bringing your own ideas into the product development processes and enriching discussions with your technical know-how and creativity
Researching and evaluating new technologies and methods for developing novel products more efficiently
Working closely with our IT development teams to contribute with your technical know-how to state-of-the-art web applications
Your Profile
You have completed an apprenticeship as an IT specialist, studied computer science or have gained similar appropriate working experience
You have at least one year of work experience in frontend development
You have expert knowledge in JavaScript (ES5 and ES6) and are familiar with HTML5 and/or CSS
You have previously worked with automation testing (Unit tests, backend test, Acceptance tests and E2E tests)
You ideally have experience in using the most relevant build tools (e.g. GULP/GRUNT, Docker, Jenkins, or the like) as well as knowledge of Linux and web servers & modern frameworks and technologies such as ExtJS (Sencha), AngularJS, node.js, and APIs (e.g. SOAP, REST, etc.)
You are a team player with strong analytical and social skills and have a high-quality approach to your work
You are fluent in English, additional knowledge of German is a plus.
You are looking for new challenges in a fast-paced environment and are not afraid to dive into concepts of the advertising industry
What we offer
YOC stands for "Your Opinion Counts". This slogan defines us in our work and in the understanding of our teams. As a (Senior) JavaScript Developer (m/f), we offer you the opportunity to actively participate in designing your role and setting new accents. By joining our team, your career in the forward-looking and fast-growing mobile market will continue to accelerate. Our goal is to support you in your personal and professional development and together offer our media partners high-quality, innovative products.
Are you interested?
To discuss this role further please send your complete application documents. Our HR Manager Belinda Topp is looking forward to receiving your application!